Valuable and smart propositions for your customers for the day after tomorrow
Get more out of your offerings. Turn ideas for new services and products into tangible value propositions.
What is values-driven design?
Values-driven design is about finding the sweet spot of values: focus on what is really important to your customers and your organization. It is not only about functionality, but also about the question: 'How can your product or service make a positive contribution to the world?' This requires deep insights, empathy, and a commitment to creating lasting and reciprocal relationships with your users.
How do we do that?
By quickly visualizing and testing ideas in practice and to take advantage of opportunities based on a values- and data-driven approach.
With creative and analytical designers who put people first.
In close cooperation with your team.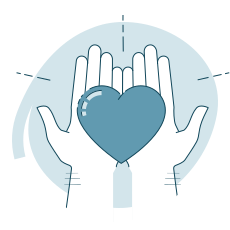 Engagement
It creates a strong emotional connection with your users, leading to trust, increased loyalty and engagement.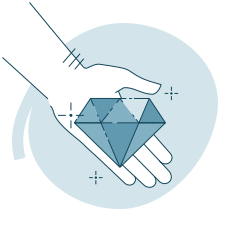 Distinction
It contributes to a distinctive and stronger position in a competitive market with future-proof solutions.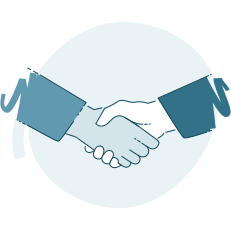 Sustainable relationships
It allows you to create positive impact, both on an individual and societal level, and to build lasting relationships with your users.
Example: Van Meeuwen project
Smarter lubrication maintenance

An example of such a valuable and smart proposition: we helped turn Van Meeuwen, a specialist in lubrication maintenance for production companies, into an expertise partner of the future.
Challenge
How do you change the mindset of maintenance managers so that they want to share maintenance data from their machinery with Van Meeuwen and thus offer you an optimal solution for lubrication maintenance?
Solution
Our team has carried out thorough (field) research in a short time and developed several new services in concept together with Van Meeuwen. We have created future scenarios, proposition pages and clickable prototypes. And we conducted experiments to validate whether the customer actually sees the added value.
Result
Two validated propositions for digital lubrication management. 'Smarter lubrication', with a Smarter Lubrication platform and a software tool.
This allows maintenance teams to perform the right maintenance actions earlier.
Van Meeuwen has mastered our working method: much more customer-oriented design, experimentation and validation.
"I'm not only impressed by the result of this service design collaboration, but also by the way Informaat took care that our employees have adopted a new, client-driven way of thinking. This is of permanent value to the organization."
Examples of questions we started working on in 2022: How can we...
get our new ideas off the ground faster?
develop propositions that better match our target group?
want to make our strategy and vision concrete?
reduce the risks of our innovation processes?
Sharp image of your customer, their values, needs and behavior.
Promising and visually elaborated value propositions.
Validated and appropriate to your customer and your strategy.
Focus for the long term, concrete improvement ideas for the short term.
All of our complete design solutions
In addition to this proposition, our complete design solutions consist of three other propositions. Take a look at all our propositions in the proposition overview.
Of course we like to get to know you. That's kind of in our DNA, so to speak. We would also like to hear if you want to know something about us. Feel free to ask.
Contact Marcel for more information!
Interested in our value propositions?